---



I am currently building this early 3-point hydroplane, Yankee Doodle V.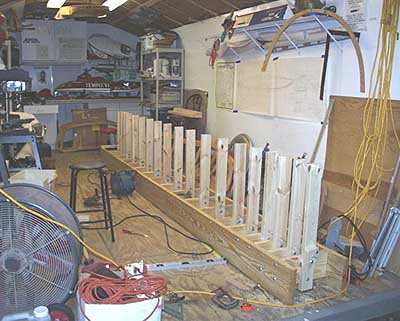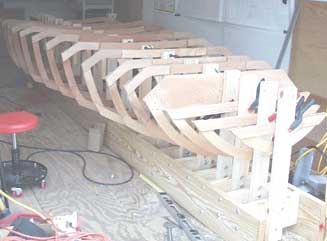 The jig is built and bolted to the floor which will temporarily hold all the framing for the Yankee Doodle V.
The blueprints are taped to the wall and we are ready to start building her.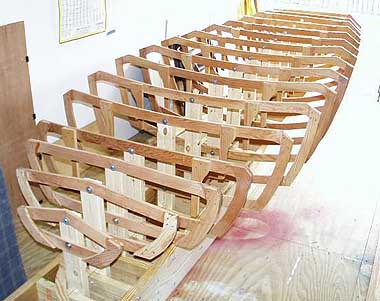 These two pictures show the frames fastened to the jig.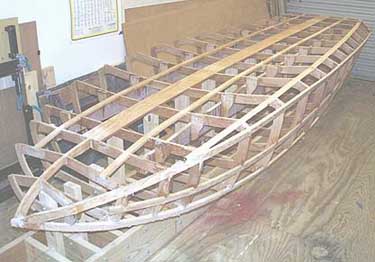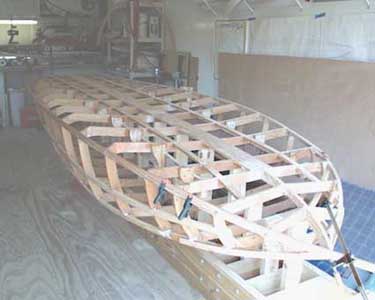 The work begins to fasten all the stringers to the frames.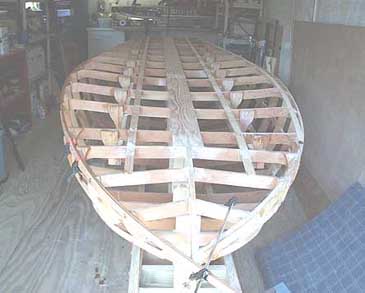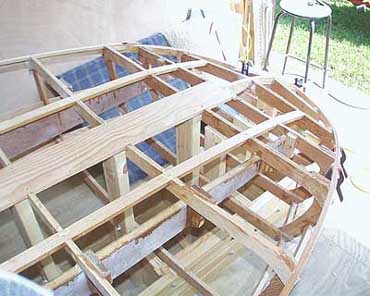 The shape of this racing hull is now really starting to come into play.
I am accumulating the mechanicals as I continue to put the hull together.
So far, I have parts of three V8-60's, a two barrel manifold, a magneto, Edelbrock heads, and a rare set of Glenwood water cooled, aluminum exhaust manifolds. I'm well on my way, engine wise, but I'm always looking for V8-60 stuff.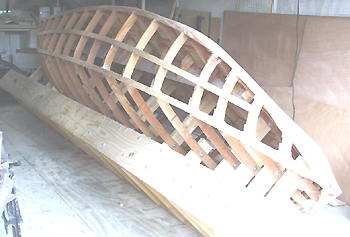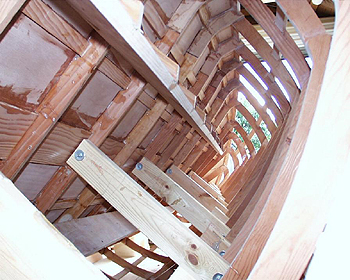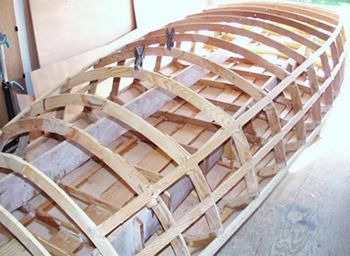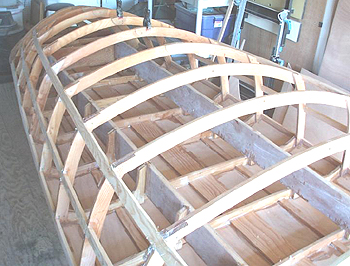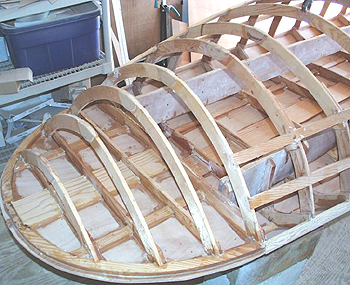 Here she is off the jig. Bottom is on and it's coming off the jig. I thought I was good at cleaning up glue but I missed allot. It's hard to get it all when your laying on your back. Should be easier now that she is right side up. I have to do some fairing before I can start putting the sides on but I'm plugging away.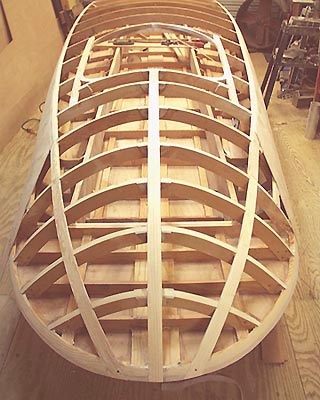 I added three battens through the tail.
They are each made of three laminates, it makes them stronger and less likely to crack while bending.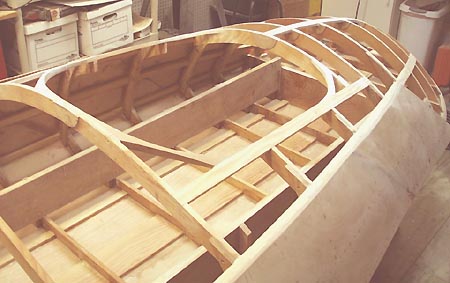 I've also finished framing out the cockpit.
It's starting to look like the real thing!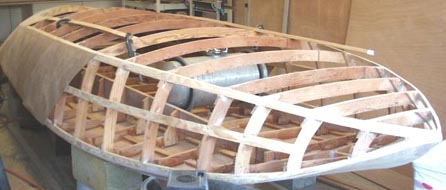 Notice my very trick MOON 7 gallon fuel tank from ebay!
The next layer of plywood will go on at the opposite 45 degrees.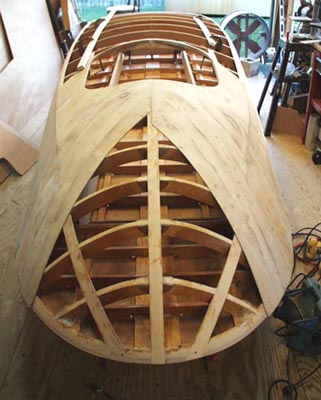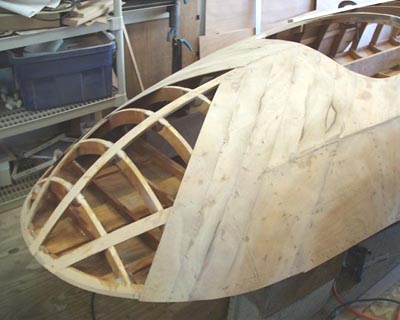 The inner layer of 4mm plywood is going on the tail.
By the way, if at all possible, avoid getting your thumb with the pneumatic stapler!
Should be plenty stout when it's all done.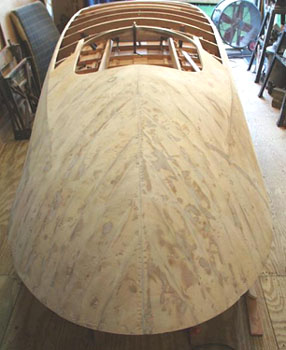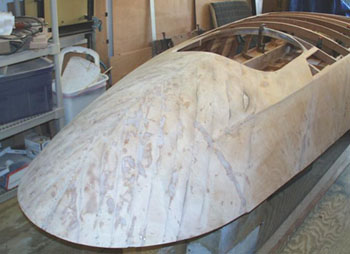 I've completed the first layer of 4 mm plywood through the tail section.
I'm going to take a break on the skinning and concentrate on framing out the engine hatch.
Once the hatch is framed up I can finish skinning the main hull.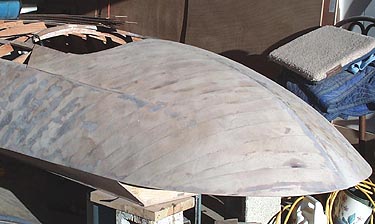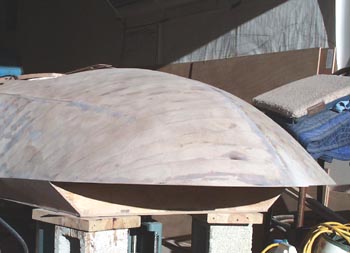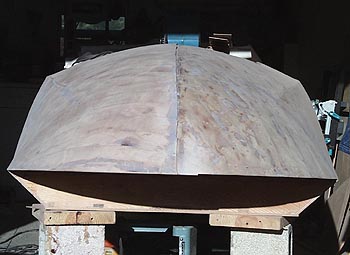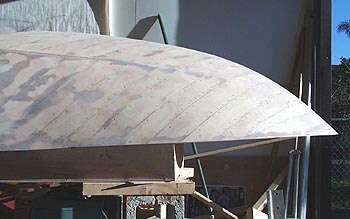 As the project moves along the shop becomes more cluttered. The sides and tail have the first layer complete. The port side of the tail and nine feet forward on that side have the second diagonal layer on. It is amazing how ridged two layers of 1/8" plywood and a little epoxy can get. I received a tape of Rudy Nielson's "Rudy Toot" running back in the early 60's. Odds are it was the old "Yankee Doodle V", what an inspiration to see it on the water. Up till now, I've only seen still photos of the hull. I've redoubled my efforts. As I've said before "sleep is for the weak in spirit".