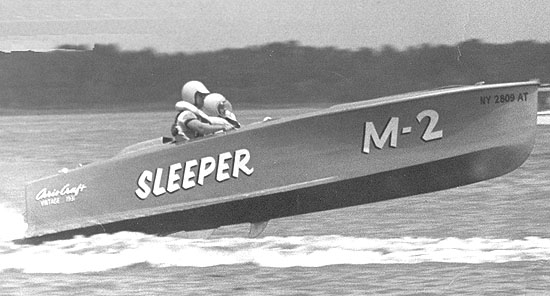 Sleeper M-2
Circa - 1959 Elizabeth City, NC.
Owner: Harold Bauer of Kenmore, NY
Driver: Bill Burgess of N. Tonawanda, NY
Riding Mechanic: Fran Semenick of Buffalo, NY

HISTORY
Years Raced 1955-1966
This boat was raced originally in local regattas. In 1956 the boat was registered with the American Power Boat Association as M-2, a F Service Runabout class. The Service Runabout class rules were based on cubic inches, length, weight, and had to carry a crew of two people (driver & passenger). In 1956, the hull was powered by a Buick engine, and was driven from the rear of the boat. We were competing in the Nationals in Buffalo that year and almost won. However, the Buick motor fell apart. Bill Burgess (driver) and Harold Bauer, (who was the owner at that time) decided to change the power to Ford 390 FE and make hull adjustments. In 1959 we added to the chine on both sides from the trip back to increase the hull width at the transom. Knee braces were added to all the stringers and original braces. A cavitation plate was built for more running surface and stability along with fins for tracking. Placement of the engine was moved to the rear and attached by a Borg Warner velvet drive 71C, coupled to a Casalle V- Drive via a jack shaft. Prop shaft angles and steering were changed. The seating arrangement was changed to two forward cockpits driving from the cockpit forward of the engine. Bucket seats were added. The entire hull was fiberglassed. We made prop changes and settled on a two blade, Cary propeller. In 1961 won Buffalo Launch Club around Grand Island Marathon. Length & time - 27 miles in 22 minutes & 37 seconds, avg 73 mph. A local record, that still exists today. For years years, canvassed the boat, traveled thousands of miles from Valleyfield, Quebec to Miami, FL, including , Buffalo, NY, Washington, DC, Elizabeth City, NC, Millville, NJ, Rehovoth Beach, Norfolf, VA, Chestertown, MD, etc. It was definitely a crowd pleaser.

This boat today is owned by Bill Burgess, Orlando Florida. The boat was bought and restored by Tom Frauenheim (Thomas Frauenheim, Inc. boat restoration & broker Buffalo, NY) who purchased it from the estate of Harold Bauer. The boat has been sitting for 36 years and needed extensive restoration.

Bill Burgess had the chance to drive this boat again at the Buffalo Launch Club Antique Regatta in both 2003 & 2004. As boat racing goes, a part of history many involved will never forget, especially people in Buffalo, New York. A pioneer area in boat racing.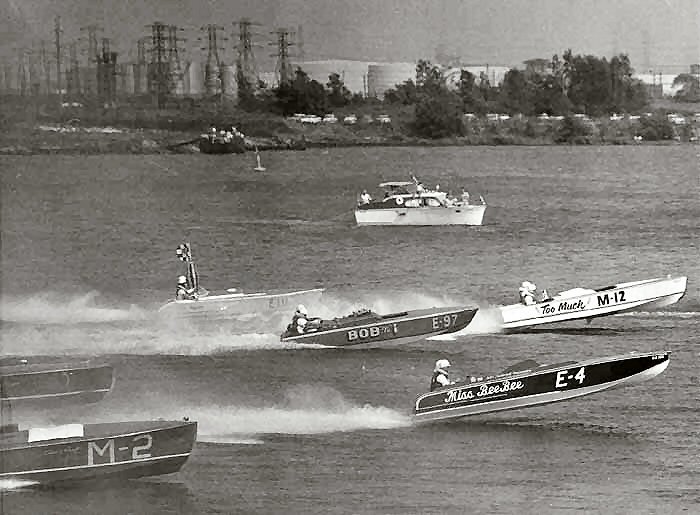 Buffalo Launch Club - Buffalo, New York 1957
Driver - Bill Burgess
Rider - Fran Semenick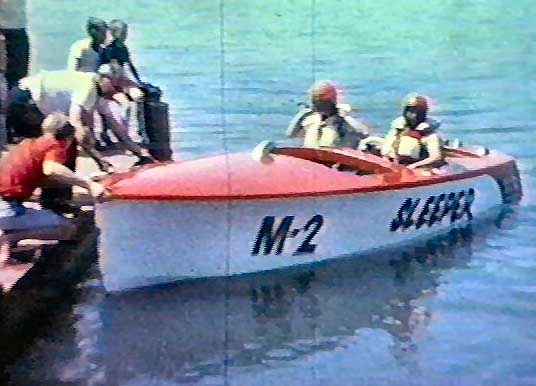 1963 Niagara River - 60 mile Marathon
Driver: Bill Burgess
Riding Mechanic: Mike Thompson Buffalo, NY
(Same boat as above but wearing new colors).

This boat was an original F Service class boat of Chris Craft. The 19' runabouts were a racing runabout.
To make the class, we added the cavitation plate to make the legal length. As always the class diminished because others sought to change the rules instead of moving up.
There were a lot of first's when we redesigned the engine, cockpits, etc.
Harold Bauer acquired a Ford 390 FE directly from Ford and this boat was the first Service class to run that motor.
When I brought the boat into Washington, DC for the President Regatta, it spun a few heads. I made all the marine conversions including the manifolds. It was the talk of the East coast and it ran.
I really love this boat....was my start to a boat racing career.

The above & next 3 photos were taken 2002 - 2003 during the boat's restoration at Tom Frauenheim's shop.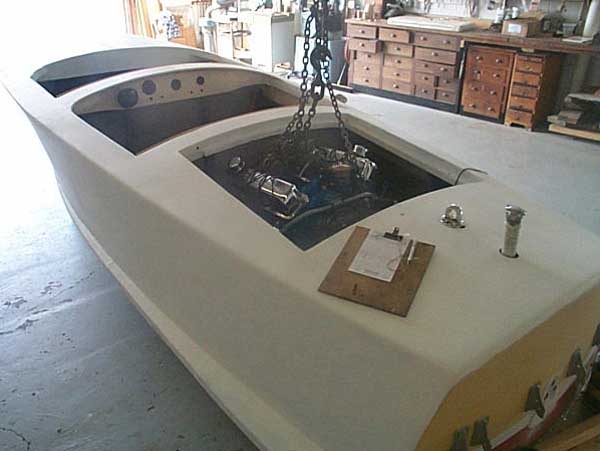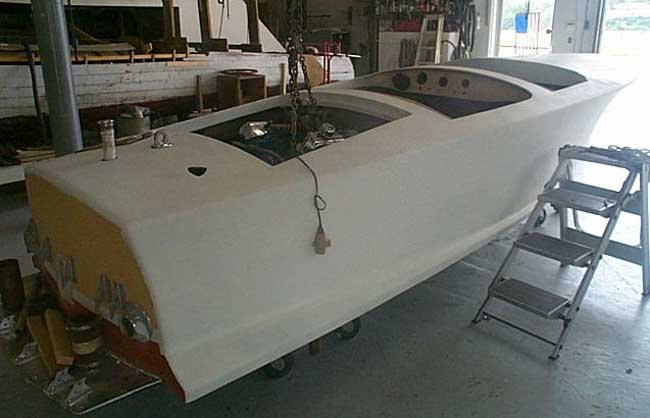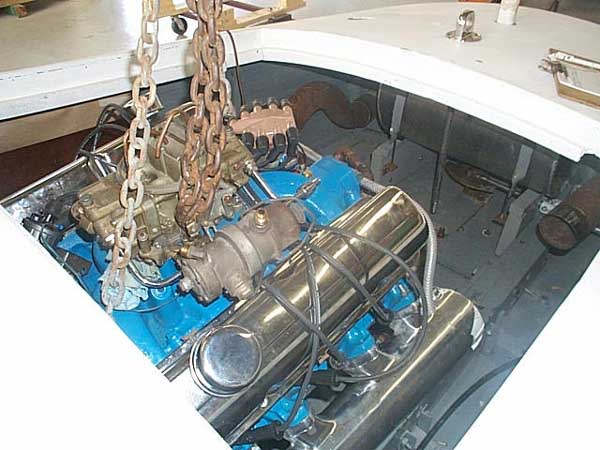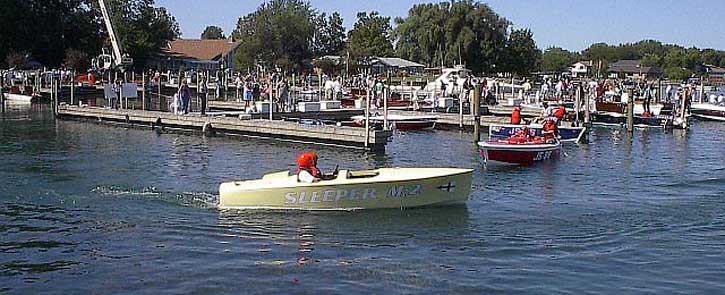 2003 Buffalo Launch Club
Driver - Bill Burgess
Riding Mechanic - Greg Barker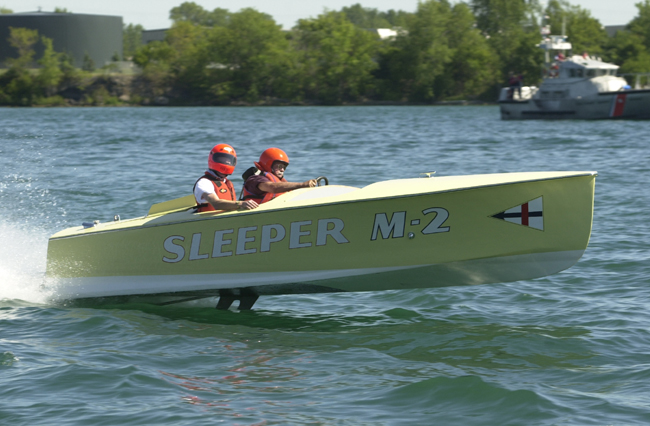 2003 Buffalo Launch Club
Driver - Bill Burgess
Riding Mechanic - Greg Barker

Antique Boat Museum
2004 Antique Race Boat Regatta
Clayton, New York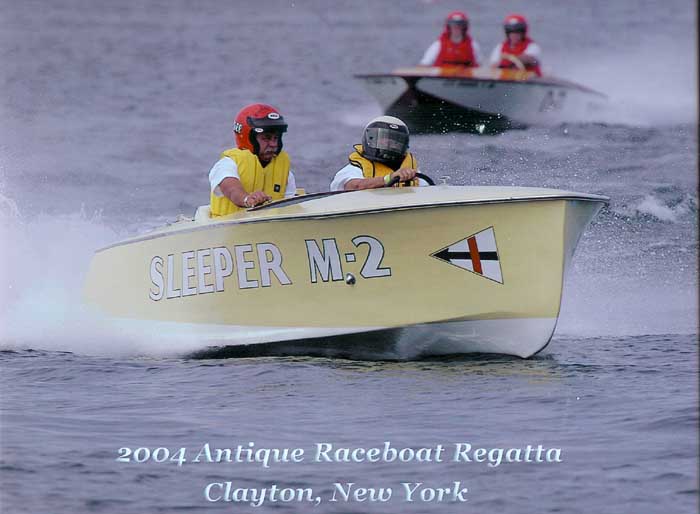 2004 Antique Race Boat Regatta
Clayton, New York
Owner/Driver - Bill Burgess
Riding Mechanic - Jim Lewis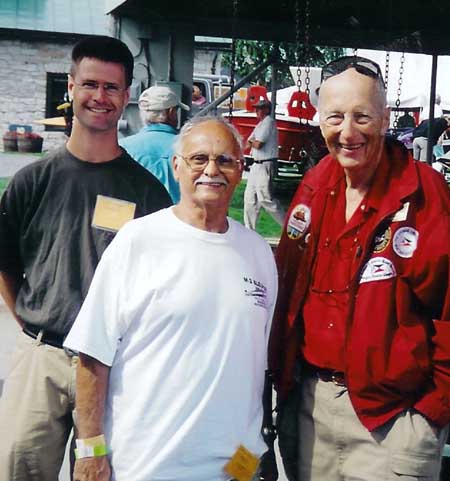 2004 Antique Race Boat Regatta
Clayton, New York
Keith Holm - Bill Burgess - Curt Brayer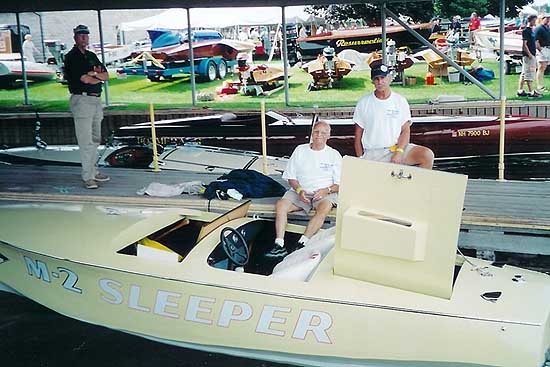 2004 Antique Race Boat Regatta
Clayton, New York
Owner/Driver - Bill Burgess
Riding Mechanic - Jim Lewis
More photographs and information of this boat as well as other boats I drove
throughout my boat racing career are located in my photo album on this website.
© Bill Burgess