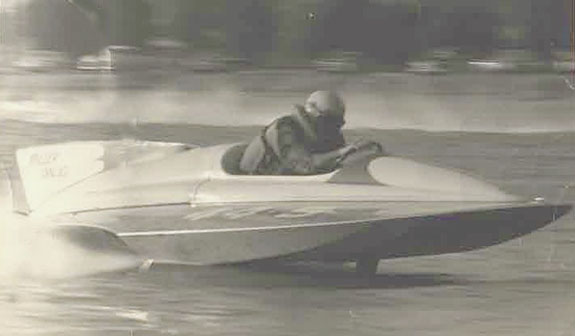 Yaller Dawg is a 145 cubic inch class hydroplane that was built in 1964 by Ron Jones and owned by Joe John Schulte of Lowell, Michigan. This boat may be the oldest Jones cabover in existance.
1977 Eastern Divisional Champion
1977 Western Divisional Champion
1977 National Champion
1975-1976-1977 Dayton Hydroglobe winner
Many course records including Mission Bay, Long Beach Marine Stadium, Decatur and Dayton.
We campaigned the entire USA in 1977 without losing a single heat.
The boat has always campigned as Yaller Dawg but we have had a few number changes over the years: Joe G. Schulte ran as 44-S the first few years, then S-44.
We did not register in 1974 and lost the number. For 1975, we campaigned under S-441.
Then finally as S-55 in 1976 and 1977. The Schulte family has a long tradition of boat racing.
The boat originally ran 144ci 6-cylinder Ford Falcon per 145 stock class rules.
We installed a 1971 Pinto 2000cc when the class rules changed.






Restoration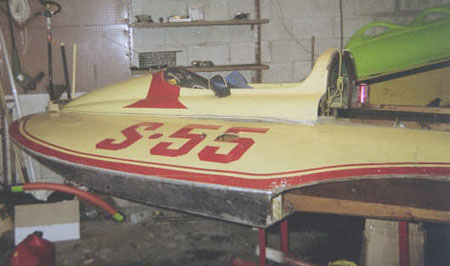 Restoration begins as the boat is prepared for restoration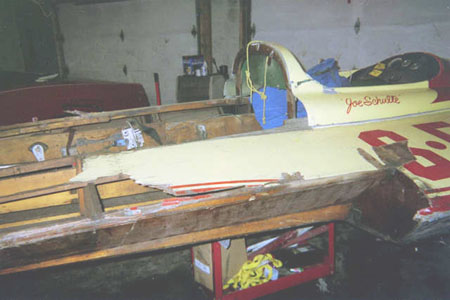 The boat ended it's career after an accident. The removal of the deck skin will begin to get a survey for to see how much
materials and work is going to be needed to bring the Dawg back to a restored and running condition.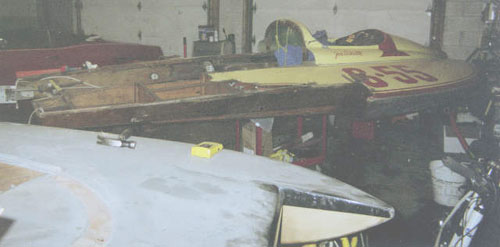 The boat in the foreground is ? and it's restoration is forthcoming also.



Ron Jones certainly was ahead of his time with such a wide transom for a boat built in 1964.