Evening Tribune, San Diego, Saturday September 18, 1976

STRANGE SEAFARE - They're calling it Knudsen's Folly and it will be unveiled for racing tomorrow during the Jack-In-The-Box Unlimited Regatta on Mission Bay. It is a twin-Ford powered engine built by Walter Knudsen of El Monte. Powerful aviation engines will be pitted against it.
Photo by Larry Armstrong, Evening Tribune Staff
Bizarre boat makes regatta debut
By VERN GRIFFIN

Most of the thunderboat owners here for tomorrow's Jack-in-The-Box Unlimited Regatta came to race. But Walter Knudsen owner of the Miss ONeal & Knudsen, is a bit different. He came to start a revolution. And while it will be a very friendly and good-natured one if Knudsen has his way, make no mistake about it.
His automotive-powered boat still could start a revolution that could turn the unlimited racing's world upside down.
"You might see lot of boats like mine around in a few years" said the 55- year-old El Monte machine shop owner.
'I'm trying to prove that a country boy can succeed in racing just like the rich boys. Some day you might not have to have a boat nine feet tall to win a race.'
Knudsen's effort to bring automotive power in a smaller package to the thunderboat circuit is only the latest of several attempts.
Up until now, the race circuit has run almost exclusively on aviation engines but Knudsen pulled into the race pit area on Mission Bay Thursday with a twin-Ford engine installation. Instead of the enormous Allison or Rolls Royce World War II engines, Knudsen has two 427-cubic-inch, fuel-injected engines with overhead cams sitting in his boat.
They were built by Louis Meyer Jr., son of the first three-time Indianapolis 500 winner, and Knudsen came to San Diego for his boats racing debut. Knudsen's arrival here with his hand-built hydro comes at the end of 12 years of work.
I wouldn't want to tell you how much I've invested in this boat,'' noted the owner as he worked feverishly on getting ready for tomorrow's race that will start at noon on Mission Bay.
"If I had a dollar for every hour I've worked on her, I'd have as much money in my boat as any of the other owners. The creator of Miss O'Neil & Knudsen said this week really is only a test for his boat, an initial step toward getting her prepared for serious competition next year. 'I figured I'd come down and let the big boys know that I really do have a boat,' he said. His reception has been mixed. Some were even calling the small, Ford-powered hydro Knudsen's Folly but the boat might just fool them all. Knudsen started designing the boat in 1962, using the 850-cc, record-setting limited hydra Piranha as his model. He has used alot of innovations on his scaled-up version of the boat, however. His low-profiled hydro, in fact, is loaded with new ideas. One of them is an unusual fire-fighting system that includes CO-2 nozzles over each of his engines an idea that the Unlimithd Racing Commission has passed on to owners. The light, 5000 pound, 28 foot hull also has a fuel tank or each engine with fuel weight concentrated on the centerline of the hull. And the engines themselves are placed back to back with the gear box in the middle. "If this all doesn't work, I'll just-have to sit down under a tree somewhere and try to figure something else out," said Knudsen who has brought out the the first challenge by an auto- powered boat since Dave Heerensperger's twin Chrysler hull in 1970. But if you don't try something new, you'll never know if it will work."
Eleven unlimiteds in all are in town for tomorrow's race. Regatta officials say the best viewing areas for the East Mission Bay race, will be from Fiesta Isle, East Vacation Isle and Crown Point. Admission and parking fees will be charged with proceeds going to the Boys' Clubs of San Diego.

---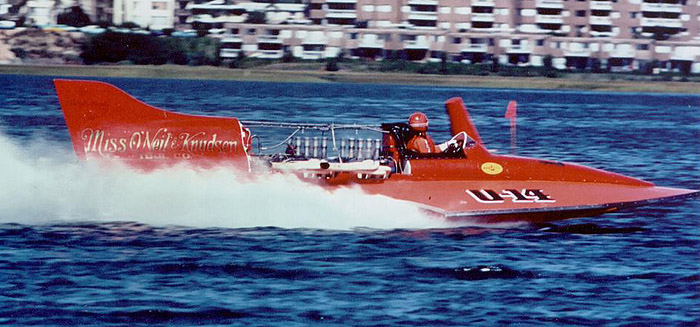 Boat motors suffer a lot of torsional vibration with the prop loading and unloading...
....build a grenade motor for a boat and that's what you'll probably get...a grenade.
I think Walt spent 1964-76 building it, and 1976-1982 tinkering with it trying to get it to run properly.
One heck of a lot of work went into that rig, too bad it's sitting out in the desert!
Bob Foley
Thanks to Bob Foley for providing photos & the newspaper article for this webpage!