Australia is best known for the jet powered hydroplane records set by Ken Warby, the fastest man on water. However, this article is about the first competitor to utilize a war surplus jet engine to power a hydroplane in Australia.

TOMMY WATTS grew up at Rosedale in country Victoria and learned at an early age to utilize the things at his disposal to achieve his aims and ambitions. Watts worked in varied positions and learned a number of skills, you could say he was a "Jack of all trades, master of none". This training allowed him to participate in his favorite sport, powerboat racing with a reasonable degree of success. After racing Inboard displacement hulls at club level for a number of years, Watts decided to make a claim on being the Fastest Man on Water in Australia and to achieve his ambition he set about assembling the necessary equipment for the challenge.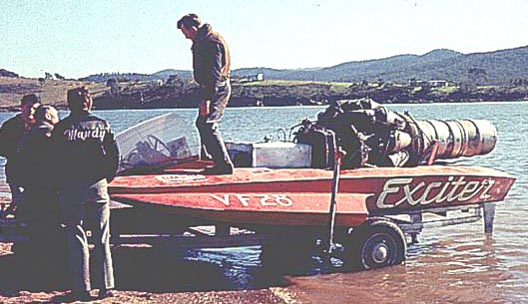 TOM WATTS is pictured standing on the deck as the hydro
is being launched at Lake Glenmaggie in May 1965.
Photo by Trevor Woolan







Lots of engine, not much boat.
Lots of courage required.



The hull purchased was a Jones design originally built in the mid 1950's to run as a 266ci craft and only 17 feet 6 inches in length and constructed of marine plywood. Power was to be supplied by one of two surplus jet engines purchased through Air Force disposals, condition unknown. Tom was to be his own boat builder, mechanic, engineer and driver when he set about assembling the hydroplane depicted in this article. The hull was changed from a rear driven configuration to a cabover with the cockpit placed well forward in the bow and fitted with only enough instruments as required to ensure operation. A tachometer and air speed indicators being mounted on top of the dashboard behind a cut down jet fighter cockpit screen.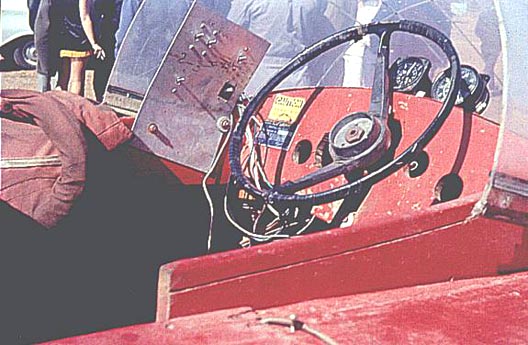 Photo by Trevor Woolan
The engine was mounted in the rear of the hull behind the large fuel tank, which was located in the position usually occupied by an auto engine. The engineering employed was a nightmare for all official scrutineers who inspected the setup prior to record attempts. The jet engine was attached to an angle iron frame bolted to the original bearers by chains and the thrust angle was achieved by the incursion of pieces of timber of varying thickness under the rear of the engine. The fuel used earned Watts the knick-name of the "Kerosene Kid". His manner of tuning the engine was to chain the entire boat to a tree while he adjusted fuel mixture as the throttle was opened from idle to fully open by a brave crewman.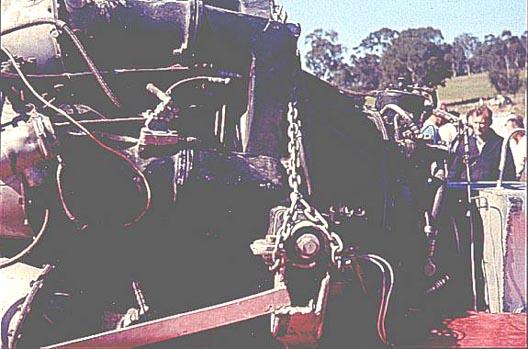 TOM WATTS can be seen behind the boat wearing a blue driving suit.
Photo by Trevor Woolan
Watts favorite lake for record attempts was Lake Glenmaggie near Heyfield in Gippsland, Victoria. Early in May 1965, just after sunrise, EXCITER and TOM WATTS recorded an official speed of 136.90 mph average for a two way run over a measured kilometer, some 2 mph less than the Australian Record at that time. While unofficial runs at later dates saw the air speed indicator show speeds in excess of 180 mph, Officials would not allow sanctioned runs to occur because of concerns for the safety of all concerned. In an attempt to raise funds to run the boat Watts would remove sheets of ply from the deck above each sponson and take paying passengers, two at a time, for 100 mph runs across the lake.
Watts later constructed another larger hydroplane from sheet steel for future record attempts. However, weight problems ensured this venture was doomed to failure.
After about 3 years the jet project was abandoned and Watts raced hydroplanes with more conventional power on the Australian circuit. His mechanical ingenuity continued to be of concern to Officials. Firstly, when he raced an 18 foot hydro powered by two engines in tandem. A 327ci Chevy in front coupled to a 348ci Chevy with entirely different tune up specifications. The next hydro to wear the Exciter name was a equally old Jones of some 20 feet in length, powered by a super charged 392ci Chrysler, which while extremely fast, fell foul of the Officials once more.
Watts retired from boat racing in the mid 1970's and fitted the jet engine from the hydroplane to the chassis of a1950's FODEN truck and set out to claim the Australian Speed Record for Trucks which at that time stood at a figure a little over 150 mph.
Sadly, on a country road just out of his boyhood town of Rosedale on a Sunday morning several years later, Watts lost control of the truck at a speed in excess of 160 mph, while attempting to set a new record speed and ran onto a railway line running adjacent to the road. The truck became air-born and then rolled a number of times before coming to rest. Tommy Watts was declared dead on arrival at the local hospital. This unfortunate accident saw Australia loose a very colorful character of a nature not likely to be seen again.
© 2003 Graeme Morley