Following the second World War, powerboat racing in Australia started to develop quickly as soldiers returned home and industry and the general economy started to prosper. Materials developed for the war effort were beginning to be used in boats and there was a great demand for motor vehicles that saw a large number of previously unseen engines coming into the country.

Most of the imports were from either England, Europe or America. The English imports were powered by engines ranging in capacity from 75ci to around 225ci. Manufacturers were Austin, MG, Ford (England), Riley, Hillman and Jaguar. Some of these were side valve while others were OHV models.

There were a few from France, mainly, Renault, and Fiat, which were of 50ci to 135ci.

The American models came from Ford, GM, Chrysler, Dodge, Pontiac, Plymouth and Studebaker. The Fords were mainly SV 8 cylinders or SV 6 cylinder's, followed in the late 1950's by 272ci and 292ci OHV engines. The Chrysler and Dodge were SV 6 cylinder models with a few small hemi versions specially imported from the Plymouths and Studebakers that were either 6 cylinder or small OHV 8's

Large capacity performance engines were not made available in large numbers as all were imported for special orders only. The largest engines available locally in numbers were either 351 Fords or 350 Chevs even through to 1960's and 1970's.

A few people imported engines from Ferrari and Maseratti in the late 1950's and there also the surplus war engines from planes and tanks such as Rolls-Royce Merlins.

The classes raced in Australia were intended to suit the engines readily available and were: 75ci, 95ci, 155ci, 266ci sv, 266ci ohv, 300ci and Unlimited (which were made up of anything and everything of more than 300ci).

The local speed industry was built up around the large number of small capacity engines with most of the 8 cylinder equipment imported at high prices from the USA which saw highly modified small capacities run successfully against mainly stock larger American engines.

---
Classes/engines used in the 1950's and early 1960's:
50 Cubic Inch:
Hulls were conventional 3 pointers powered by motorcycle engines from either Triumph or Norton pulling 7 ¾ x 11-½ propeller.
75 Cubic Inch:
Hulls were between 12' and 13' long and powered by Ford Cortina or Coventry Climax engine adapted from fire fighting pumps used during the war.
The Climax would use a 9 x 17 propeller, the Cortina either a 9x15 or 15 ½
95 Cubic Inch:
Hulls were between 13' and 15' 6". Engines were Austin, MG or Ford Cortina/Consul range. The Climax also was used in a small number of boats.
Propellers were 9x17 ½ or 10x14 with a 10% gearbox.
155 Cubic Inch:
Hulls were 14' to 16' 6", mainly conventional. However, Australia's first successful Cab-overs were built for this class in the early 1960's. Ford Falcon and the Australian Holden (GM) were tuned to around 145 to 160 horsepower and used 10-½ x17 or 17 ½ propellers.
V8 60's were also used in one successful hull.
225 Cubic Inch:
Hulls were 17' long and used SV Fords, Studebakers and Jaguars running 11x17 direct drive propellers or 11 ½ x 15 with 10% to 15% in a gearbox.
266 Cubic Inch:
Hulls were 17' to 18' and powered by Dodge, Chevs, and DeSotos, even a 3 ½ litre Ferrari. Propellers were 12x20 direct drive.
300 Cubic Inch:
Hulls were 17' to 19' long, used similar engines and propellers as the 266 classes, many races were full of 225 and 266 boats running out of class.
UNLIMITED:
Hulls were 17' to 19' in length and powered by Dodges, Chevs, Chryslers, Fords, and surplus war engines such as the Merlin. In fact, anything that had power potential was tried if available because unlimited was totally unrestricted as well. Propellers were usually 12x17 or 12x18 with gearbox ratios of 35% to 50%.


SPEED TRIALS:
The battle to clock 100 mph was as intense in Australia as America. The following list shows the first Racers to reach this speed in the 1950's

| | | | | |
| --- | --- | --- | --- | --- |
| Badge | Name | Boat | Speed | Date |
| 1. | H. Troy | Fleet wings | 102.31 | 14/4/1956 |
| 2. | Mrs G Walker | Dianne | 105.2 | 31/5/1959 |
| 3. | H. Treloar | Jag | 106.52 | 28/11/1959 |
| 4. | L. Owen | Hurricane | 118.7 | 2/1/1960 |
| 5. | W. Rowe | Do | 103.09 | 3/1/1960 |
As you can see the speeds put us well behind the USA at this time.

HULL DESIGN:
There were a lot of conventional Jones style boats following the importation of plans in the mid 1950's. The local builders designed their own hulls based on photos and their views on the Jones design. The quality local builders spent more time building Displacement hulls as this was where the market money was, Ski Boats were big time.
Most Race Meetings ran Displacement hulls against Hydros in the main races and we had some very well designed Skiffs and Runabouts.
The development of the hydroplane in Australia was more pronounced in Sydney where they formed the NSW Hydroplane Club separate to the normal boat clubs.
---
"scratch races" or "handicaps" based on lap times
The population did not support the development you had state side. We had a number of classes developed from around 1947 on, previous to this, most racing was either "scratch races" or "handicaps" based on lap times.
Classes were developed from 75ci to 300ci then to what was called "unlimited unrestricted" in which you could run anything the main issue was being fast enough to be competitive.
This form of racing saw a mixture of both engine sizes and hull types in major trophy races, such as Hydros running against Displacement hulls. As engine sizes increased (e.g.. 350ci, 396ci, 427ci etc.) they developed classes for those sizes, however, any form or size could start in the Unlimited Unrestricted Races.
Today, we have a limited number of true Unlimited hydros, only 3 or 4, with designs ranging from the 1950's conventionals to the cabovers from about 5 years ago state side. They race against a number of recently designed GP Hydros. The same as you have today, e.g.. Jones, Stadaucher, Lauterbach and the odd local design.
---
A short background on one of the unlimited unrestricted races:



This photo shows the two top Australian hydros lining up for the start of the A.E. Baker Championship in Sydney in 1972. Aggressor crashed after hitting a submerged object injuring both driver Dave Tenny and mechanic Les Scott. (Scott was crippled for life after spinal injuries). Aggressor was powered by a Merlin, while Air New Zealand was powered by a 350 Chevy. Both boats had recorded speeds in excess of 150 mph. (Aggressor is now owned by David Pagano. Air New Zealand is owned by Peter Griffin).
The event in relation to the above photo was purely a Hydroplane Championship. The field was made up of a mixture of both hull and engine sizes from the Merlin powered Aggressor VS-50 to 350ci, 300ci, 266ci, 225ci even 155ci boats would enter this event at times.
The race pictured is the 1972 event held on Hen and Chicken Bay, part of Sydney Harbour in NSW. (were the Olympic games were held in 2000). Air New Zealand had been brought to Australia by owners John and Keith McGregor to contest both the Australian Speed boat Championships and the Australian Hydroplane Championship, the A.E. Baker trophy race. Aggressor was believed to have crashed after bending it's rudder possibly by hitting a submerged object.
Aggressor owner/builder/driver Dave Tenny received bruised ribs and a chipped spine in the incident and made a full recovery. Mechanic Les Scott was clinically dead when removed from the water. However, he went on to recover to the stage of being a paraplegic and is still involved in hydroplane racing to this day. As his son, who was only a few months old at the time of the accident, races a Jones designed 1.5 litre hydro with great success on the Australian circuit and father, Les, pulls the strings in the pits.
Aggressor has been fully restored and is today owned by an historic boat collector just outside of Sydney. Further details are listed on the Classic Australian Wooden Boats web site.
Air New Zealand went on to win the re-run of this heat comfortably, however, the motor blew up in the second heat and the trophy was won by a hydro called Ego, which was under 300ci capacity. Air New Zealand is also fully operational and owned by Sydney racer, Peter Griffin.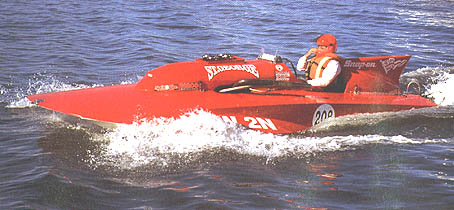 This photo shows the hydro Air New Zealand in 1997 while racing under the name of Splitfire. This hull was designed and built by Frank Mcleod who is probably the most accomplished hydro builder in New Zealand.
Speeds in excess of 150 mph were recorded using a 350ci Chevy for motivation.
I hope some of this information is useful for you all now or in the future.
I am prepared to attempt to answer any questions anybody may have if I can.
©2002 Graeme Morley