THE National Hydro Kart Association, born in 1963, now officially recognizes 22 different classifications of karts. Smallest of the classes, designed specifically for drivers 14 years and younger limits the hull length to 6 feet and puts a limit of 6.1 cu. in. of displacement on the engine. The unlimited or X-E class is the largest of the classes and calls for a minimum hull length of 10 feet. Maximum of 44 cubic inches is permitted in X-E.
The Association held its First Annual World Championships at scenic Lake Ming in Bakersfield, California on August 10, 1963. Top speed of the day was turned in by Jack Ehlen of Manhattan Beach, California. Entered in the single outboard class, Ehlen's Cyclone hull was powered by a Hydro-Mac outboard kart engine with a full adjustment lower unit, and posted a time of 2 mins. 4 secs. around the 1 mile course, for a speed of 48.4 mph.
In a meet at Hansen Dam, California on October 6th, Ehlen duplicated his earlier performance by overpowering competition to walk off with the Association's annual High Point trophy. In the same meet, EI Monte, California's Craig Bowman drive his single engined Dolphin to victory in the inboard division. Twin engine inboard award was captured by B& A Engineering in their Shark hull.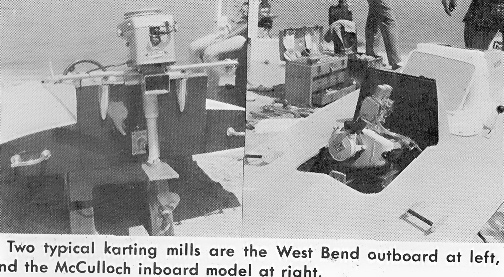 For their efforts, Ehlen, Bowman and B&A Engineering will be permitted to display the Association's U.S. 1 insignia on their boats during the 1964 racing season.
A full schedule of racing events is planned for 1964 and NHA secretary Donald T. Orr states that all interested competitors and clubs may write National Hydrokart Association for rules, regulations and sanctioning requirements. Address of NHA is 20852 Jan Street, Canoga Park, California.
While Hydro Karting is looked upon as strictly an American development, word comes from Phil Rolla of Torino, Italy that the Federazione Italiana Motonautica has taken quite and interest in the sport, to the extent of laying out some rather interesting tech requirements. For instance, all propulsion must be by standard kart engines of either 100 cc or 200 cc dis- placement, driven through a water jet. No propellers, rudders or other protuberances are permitted. Age of drivers is 16-18 years in the 100cc class and 18 and over in the 200cc class. All competition is to be on closed courses.
Further safety considerations require helmets and life jackets as well as a "dead man" or automatic throttle return and a string attached from driver to ignition to insure complete shut offin case driver is thrown from boat. There must be a fire wall between driver and engine and a clutch between the engine and water jet to permit running of boat at stand-still. Several courses have been laid out and it is expected that there will be much interest in the sport in 1964.